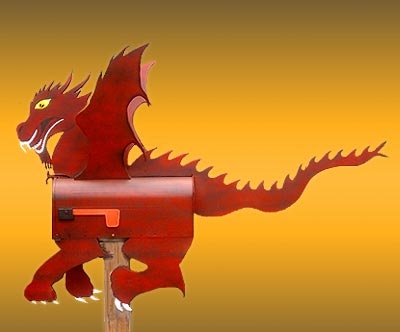 Ondine Karady is having a big year! Her wedding was
profiled
in the New York Post.
Shazia Kirmani was
making news
for her high style budget conscious apartment two years ago in Dallas' D Magazine.
Jane Lipsitz of
Magical Elves
was chatting with Andy Cohen and Tim Gunn
online after the 8/6 epi
of Project Runway and Andy asked Jane if she enjoyed producing the upcoming Top Design. Her response?
"It's a hard show to produce. Definitely hard. Fun. A challenge."
Hmm...
Jonathan Adler has a new blog column on
Huffington Post
.
New host India Hicks' Bermuda house is amazing.
Check it out
at Domino.
Dragon mailbox image courtesy of Dean's Custom Mailboxes.